British Christmas Traditions
By Andrew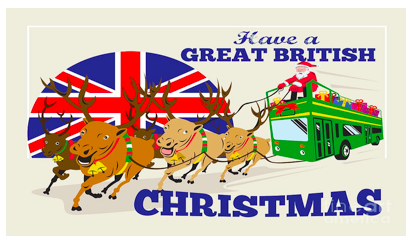 British Christmas Traditions
Stuffed turkeys, stuffed Christmas jumpers, stuffed stockings, and just knocking the stuffing out of it! How do the Brits celebrate Christmas?
From having your eardrums mercilessly beaten by merry festive numbers to a friendly extra-terrestrial, we'll give you all the key info you need to know about British Christmas traditions…
So let's get this festive shin-dig started! Here's our top 5 British Christmas traditions…
British Christmas Traditions!
Number 5: Kiss Under The Mistletoe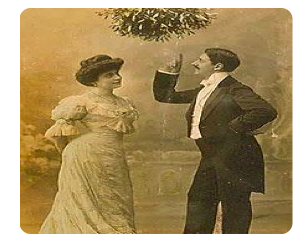 If you are lucky enough to kiss somebody under the mistletoe, you will be happy and in love for the rest of the year, apparently.
It definitely isn't a way for ugly, old, drunk men to try to get a kiss, no, definitely not!
Beware the man with the mistletoe!
British Christmas Traditions!
Number 4: Carol Singing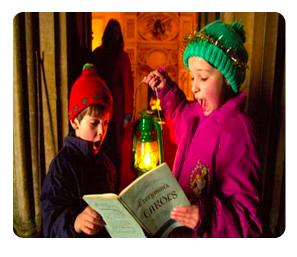 Carol singing (or Caroling) is singing carols in the street or public places. It is one of the oldest customs in Great Britain, going back to the Middle Ages when beggars, seeking food, money, or drink, would wander the streets singing holiday songs.
Now, it's not only confined to beggars, but also annoying neighbours and children.
British Christmas Traditions!
Number 3: Christmas Jumpers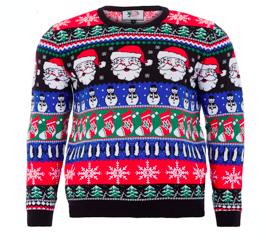 There are really only two rules for a good Christmas jumper:
1. It must be Christmasy
2. It must be horrendous!
This jumper has got the lot! Father Christmas, snowflakes, Christmas trees, snowmen, even penguins! Over the top? Never!
What more could you want from a Christmas jumper? There's not even room to spill your Christmas dinner on it!
British Christmas Traditions!
Number 2: Leave Food For Santa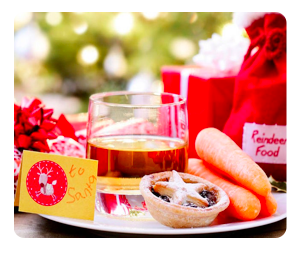 Santa Claus will come down the chimney of every house on Christmas Eve and he will expect to find something to eat and drink! So remember to leave a mince pie and some sherry on the table before you go to bed, and maybe a carrot for the reindeers!
British Christmas Traditions!
Number 1: Christmas Songs
If you enter any British shop over the Christmas period, if you turn on the radio or watch the TV, or come to think of it, if you just have ears that work then you are guaranteed to have no escape from Christmas songs!
Varying from upbeat festive fun to melancholic musings the Christmas song has been an enduring obsession throughout the decades with artists like George Michael and Mariah Carrey getting in on the act, as well as those musicians who only get wheeled out in the last month of the year… Noddy Holder, Wizzard, we are looking at you!
That said, our favourite is The Pogues' classic "Fairytale of new York".
A fantastic song at anytime of year and without doubt our Christmas number one! You can be sure there will be bleary-eyed Brits arm-in-arm all over the country belting this one out the night before Christmas! "It was Christmas Eve, babe….!"
Contact Us:
Andrew: 348 708 1635
Alessandra: 333 417 7010 
Follow English Club on Facebook for English news, jokes and fun language learning tips!